FAQ. Frequently Asked Questions
Here you will find answers to many questions about Dynavin products.
Android Auto / iLink function: My Android smartphone reboots again and again
Recently, the iLink adapter on some Android phones keeps causing a reboot after the phone has been updated to the latest Android version.We have now developed an update for this. Please see the instructions below for the procedure and links to update your iLink feature.
How do I carry out a firmware update?
Update hangs up
Make sure that the update files are correct and complete on the SD card. If you are unsure, format the card again and download the file again. The files must be located individuallyon the SD card. After you have done this, plug the SD card back into the MMC slot of the radio. Then press and hold the SRC button (on some models SRC=MODE) and press the reset button at the same time (for the reset button you need a safety pin or something similarly pointed). Release the reset button after about 2 seconds, but still keep the SRC button pressed until the radio restarts. The radio should now boot from the SD card with the update and perform the installation again.
How do I see what software version I have on my device?
Go to the main menu and change to page 2. Press the INFO button. Here you will find all data about your device. Important for the software version is the OS version and the MCU version.
Smartphone does not synchronize
Depending on the model you have to release something for the contact transmission. Check your smartphone settings for this. If synchronization still cannot take place, reset the Bluetooth settings on the device completely. 1. switch to the telephone menu and press the setting icon 2. click on "Reset Bluetooth" at the bottom 23 Remove the Dynavin device out of your smartphone Bluetooth connection 4. delete all connected phones from the radio list (Phone menu – Dial – Select phone) 5. try to establish a new connection If none of this helps, then please contact us at support@dynavin.de.
What does TTS mean?
The TTS (text to speech) function is the announcement of street names. For example, the navigation announcement without TTS would ask you to turn right in 50 m, while the announcement with TTS would tell you "turn right in 50 m into Siemens Street".
How do I carry out a data backup of my navigation card?
Wir empfehlen Ihnen, eine Datensicherung Ihrer Navigationskarte zum machen. Sollten Sie später Probleme mit der Karte haben, haben Sie so die Möglichkeit, diese selbst zu lösen.
So gehen Sie vor:
Erstellen Sie auf Ihrem Desktop einen neuen Ordner mit der Bezeichnung ,,Meine Navigationskarte'' auf Ihrem PC
Micro SD-Karte in den SD-Karten Adapter einführen und an den Rechner anschließen
Alle Dateien innerhalb Ihres Wechseldatenträgers (Navigations-SD-Karte) kopieren und in Ihren erstellten ,,Meine Navigationskarte''-Ordner einfügen (dies kann einige Minuten dauern)
How do I perform a map update?
How do I download the Toolbox?
The navigation does not speak anymore
Bei Dynavin-Navigationssystemen lässt sich die Lautstärke für verschiedenen Quellen separat einstellen.
Die Lautstärke für Navigationsansagen ist mit einem grünen Balken zu erkennen.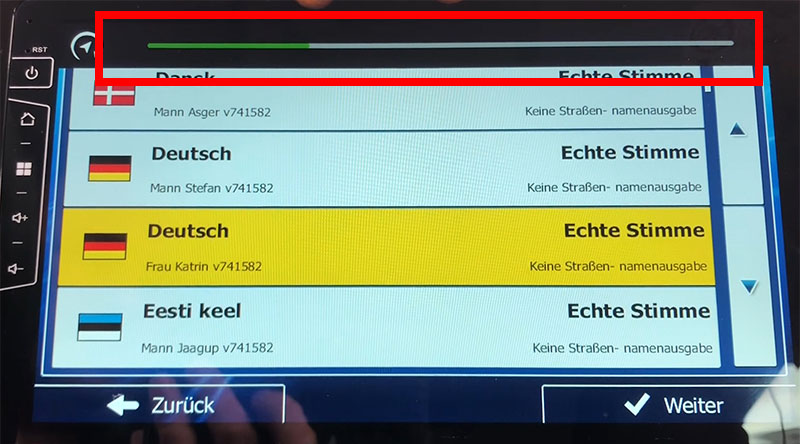 Falls Sie während einer Navigationsansage die Lautstärke heruntergedreht haben (grüner Balken), dann hören Sie keine Ansage mehr.
Um die Navi-Lautstärke einzustellen, gehen Sie im "Audio" Menü (2. Menüseite) auf "Navi" und verändern Sie dort die Lautstärke wieder.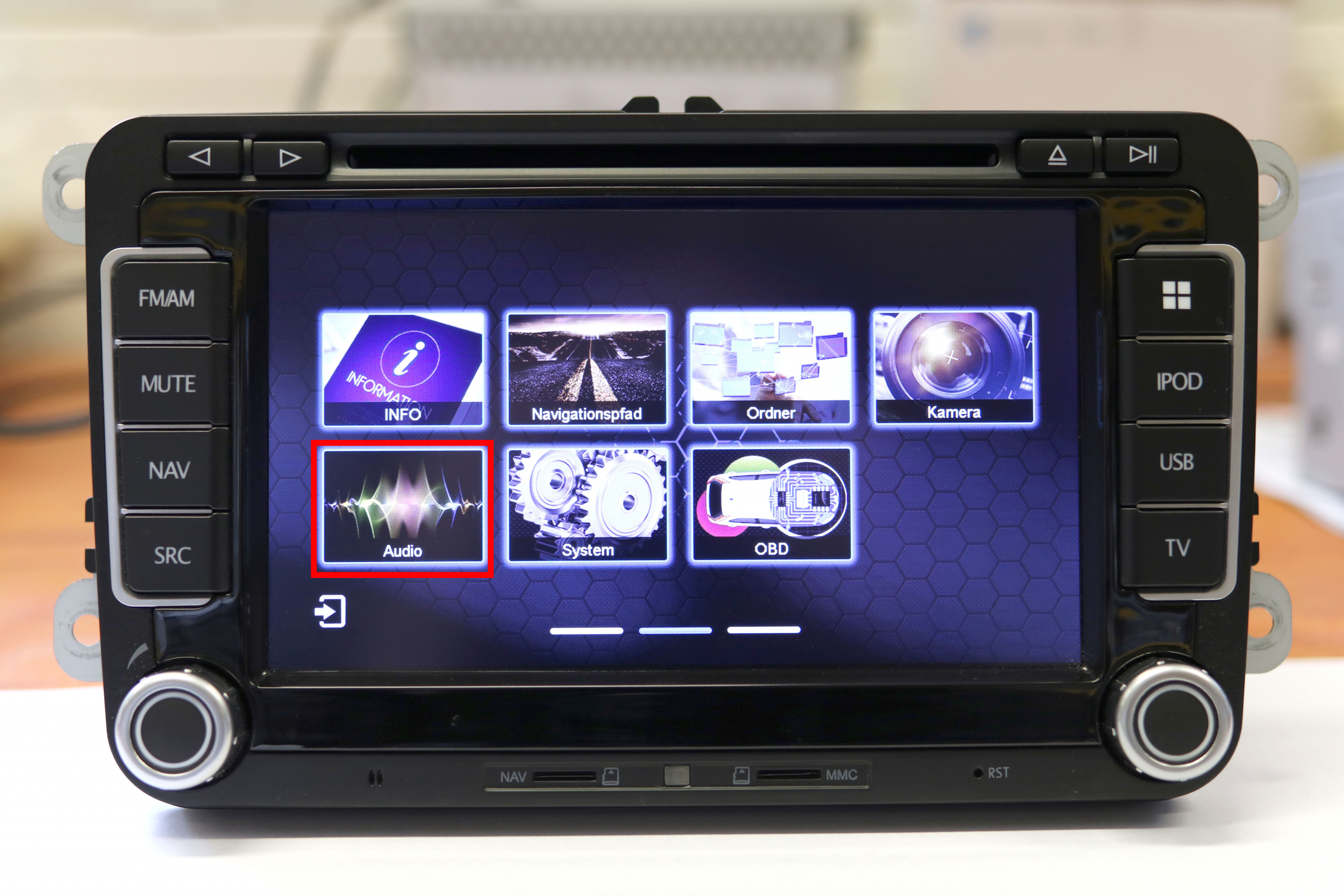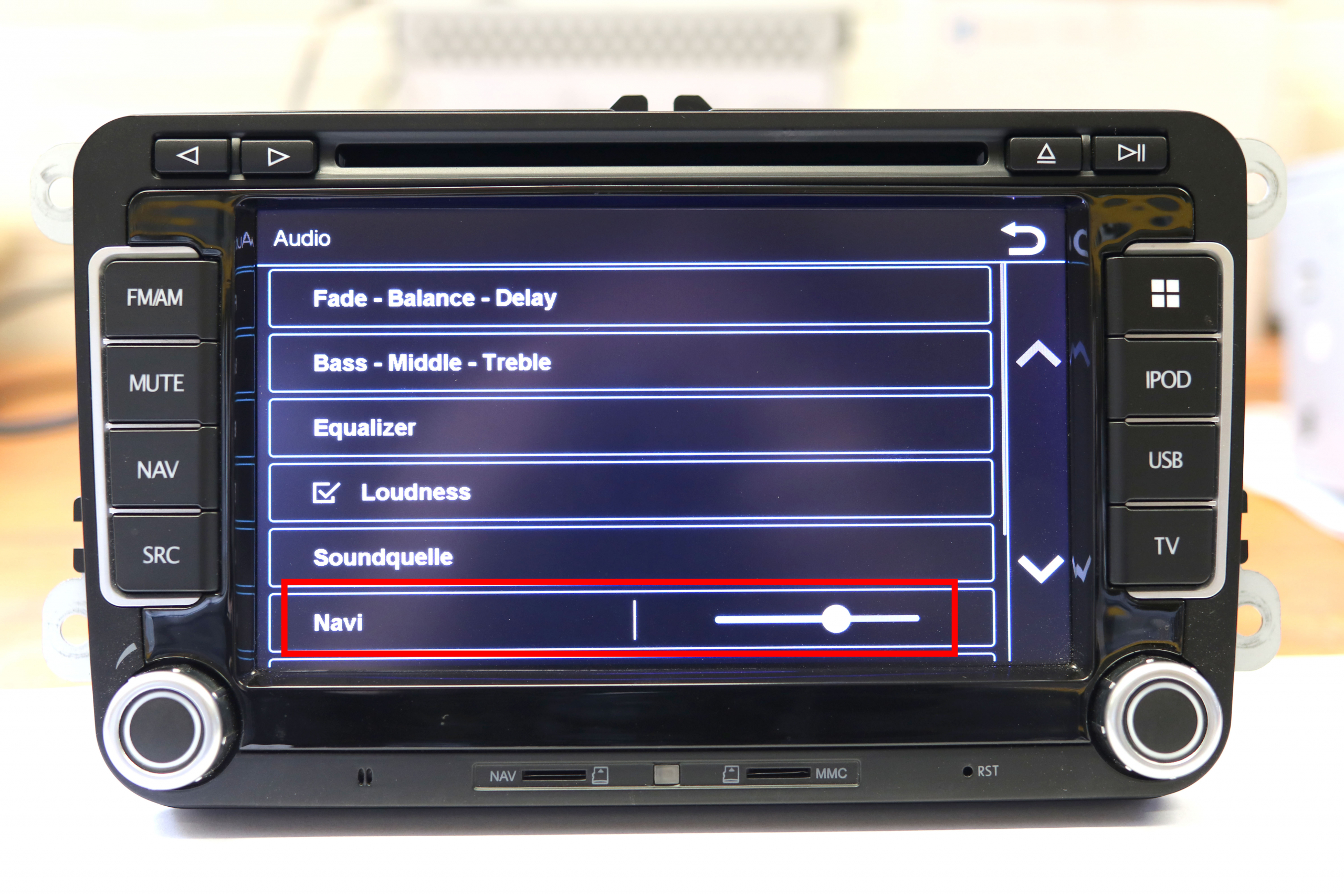 Navigation error messages
1. Out of memory – Troubleshooting: Delete the Save folder on the SD card. The error is then corrected. However, please note that all destinations you have entered so far and other navigation settings will be reset. 2. Invalid license – error correction: A license error occurs when an attempt is made to copy the SD card to another card. This does not work and leads to the license error. 3. Fatal Error – Troubleshooting: In case of a Fatal Error please send us the card with a note on the error message. We will analyze and correct the error.
How do I set up radio station logos?
Since the N6 platform you have the possibility to insert logos of radio stations.
These are shown on the display when the station has been saved.
All you need is an SD/Micro-SD card to transfer the logos.
If you own a device of the "X-Series" series, a USB stick is required.
The micro-SD card or USB stick must be formatted in FAT16/32.
Black screen
Often a black screen can be fixed with a software update. In an earlier firmware version, certain MP3 codecs caused this screen. If the problem persists please contact us at support@dynavin.de.
White screen
A white screen indicates that something is not working properly on the hardware side. In this case you must send the device in for repair. Please obtain an RMA number and provide a brief description of the problem. draw RMA number here
Device hangs itself up
If the unit hangs, first try rebooting the unit by pressing the SRC (MODE on some models) button until the unit reboots. If problems persist, please reset the device. Please note, however, that on colder days the unit may have to "warm up" for a few minutes before it runs smoothly. If none of this permanently remedies the problem (taking into account cold start and warm up), please contact us at support@dynavin.de.
Multifunction steering wheel does not work
On some models, the buttons on the multifunction steering wheel must be trained. Check the plug connections of the CAN bus adapter and the radio. Considering this point, the multifunction steering wheel may not function due to a defective CAN bus adapter or an incorrectly set CarType.
What can I do if I no longer have a bill?
Unfortunately, we can then no longer track when the device was purchased. Each device has a production seal with date. We then take this date as a reference for the manufacturer's 1-year warranty.
How do I proceed when returning goods?
If you have a problem with a delivered product and wish to report a new reclamation case, you must first apply for an RMA number.
Attach the RMA number to your return shipment, clearly visible from the outside
Entries without an externally marked RMA number will be refused by us in the acceptance of the consignment and thus return unprocessed.
Send in components without accessories. Be sure to pack it very well!
The goods must be properly packed. If possible, return the product in its original packaging. Do not use the original packaging as a shipping carton and do not glue or damage it, but ship it protected in an outer packaging
Processing only possible with complete and exact error description!
Enclose a copy of the invoice
For goods returned to us, which do not show any faults despite thorough testing, we charge a testing fee of 25.00 € plus VAT. MwSt.
Due to our sales structure and existing contracts, we are unable to make direct deliveries of spare parts and accessories to our end customers.
How long does it take to process a return of goods?
Usually the processing takes 7-10 working days. If required spare parts are not in stock, it may take a few days longer.
I have drawn an RMA number but have not received an e-mail
Please check the SPAM folder in your e-mail program.
How do I check the status of my complaint / RMA?
If you have already reported a problem with a delivered product and you have your RMA number, you can check the status of the complaint.