Dynavin: Much more than "just" a car radio with navigation system
Anyone who not only wants to listen to music on the road, but also prefers a flexible car radio with navigation system, rear view camera, hands-free system and smartphone connection, is well advised to use the multifunctional devices from Dynavin. Since 2008, the company from Malsch in the German state of Baden has stood for innovation and quality and continues to set new standards with its products. Since the company was founded, numerous satisfied customers have already enjoyed our state-of-the-art digital radios. Let us convince you too!
CarHifi
The Dynavin multifunction devices offer all the functions you want in a car radio: Navigation, large touch displays (up to 10″), rear view camera-ready, sound settings, hands-free, smartphone connectivity, etc.
In addition to the N7 Pro platform, Dynavin has been offering the new Flex platform since January.
Caravan & Commercial Vehicles

Dynavin has the largest displays on the market for the caravan/commercial vehicle sector. The multifunction units offer all modern car radio functions and come with special truck navigation software.
Dynavin is also a manufacturer of Dynavision brand rear view cameras.
The new Flex platform is here!
Dynavin presents the new Flex platform with a flexible range of functions.
Our colleague Mario explains all the functions and menus. This video has timecodes so you can jump directly to the function you are interested in.
The Flex models are available now for 299 euros.
You can purchase the following optional features at flex.dynavin.com:
The iLink function (CarPlay / Android Auto, 31-day free trial on delivery)
Licence for the pre-installed iGO Primo navigation package
DX-V-2S Pro for VW Passat B7
Discover in this video the DX-V-2S Pro navigation device for VW Passat B7! Smartphone connection, read media, search in phone book, display parking sensors and dynamic parking lines.
Digital radios from Dynavin: Perfectly tuned to your car
To ensure that your digital radio is optimally adapted to the conditions of your car, Dynavin primarily develops vehicle-specific radios, so-called double-din radios with Navi. If required, we can equip popular models such as the VW Golf, Skoda Octavia, Ford Focus, Kia Sorento, Fiat Ducato, Peugeot Boxer, BMW X5 and Audi A3. Take a look around our store – maybe your model is among them? If not, we also have the N7-6205 Pro, a universal car radio with Navi up our sleeves. The device scores with an AV input for aftermarket subs and an integrated sound DSP processor including 9-band EQ and time correction.
Practical: Our digital radio can even be paired with your smartphone via Bluetooth. This allows you to conveniently play your music from your phone – even from all major streaming services such as Spotify, Deezer and Co. In addition, our car radios can also be used as a hands-free system through the smartphone connection. To ensure intuitive and therefore foolproof operation, every car radio in our range is equipped with a generous LCD touchscreen that measures between 6 and 10 inches, depending on the version.
Equipped with the Apple CarPlay and Android Auto platforms, the radio even transforms into a kind of permanently installed tablet. Thanks to the popular Google platform, you can use all apps and tools that are also installed on your smartphone.
But that's not all: Dynavin navigation systems also turn out to be unbeatable companions when it comes to safety. All our digital radios are compatible with rear-view cameras, effectively reducing the risk of an accident when backing up.
First-class service around your new car radio with Navi
By the way: With the Dynavin installation service, you don't even need to do it yourself to use our digital radio. We'll do the installation for you – nationwide!
You have questions about our car radio with Navi or about our service? We will be happy to help you. Simply contact us – by phone or by e-mail.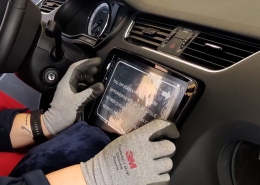 Skoda Octavia III installation instructions
https://www.dynavin.de/wp-content/uploads/1622100023-WP_Skoda_Octavia_III-Dynavin_tn.jpg
1080
1920
DYNMKT
https://www.dynavin.de/wp-content/uploads/2018/12/dynavin-logo-300x138.png
DYNMKT
2021-07-22 08:53:54
2021-07-22 08:53:56
Skoda Octavia III installation instructions