The infotainment upgrade for VW Golf Sportsvan 2014-2020 with Dynavin Style
10.1 inch navigation system for Volkswagen Golf Sportsvan, Apple CarPlay and Android Auto support
DX-V-135S Flex
---
Premium 10.1″/16:9 LCD capacitive touchscreen display (1024 x 600 resolution).
Apple CarPlay and Android Auto compatible with included iLink Pro USB dongle (purchase activation code on flex.dynavin.com after 31days free trial).
CANBUS solution integration (for steering wheel controls, vehicle settings, vehicle information, parking sensor and air con information).
Bluetooth for audio streaming and hands-free phone calls via any smartphone (Android, Apple, etc.). External microphone included.
FM RDS TMC tuner with DSP noise masking and 15 preset stations, DAB/DAB+ tuner and DAB antenna included. Supports switching back and forth automatically between DAB and FM (Seamless Blending).
Integrated Sound DSP processor with 9-bands EQ and time correction. Supports VW Dynaudio Sound System by using DVN-MO150-V.
AV input/output for aftermarket subs/amps, etc.
Multimedia player by USB connectivity.
Reverse camera ready: Compatible with VW factory reverse camera and aftermarket reverse camera.
Navigation software with 3D view and premium POI: the navigation map is included (purchase license file on flex.dynavin.com to enable).
OEM design double USB socket panel included.
Supports VW lane keeping assistance and traffic sign recognition feature by using DVN-CANMIB-H.
Vehicle Applications
| Year(s) | Make | Model | Additional Info |
| --- | --- | --- | --- |
| 2014-2020 | VOLKSWAGEN | Golf Sportsvan | - |
Vehicle Integration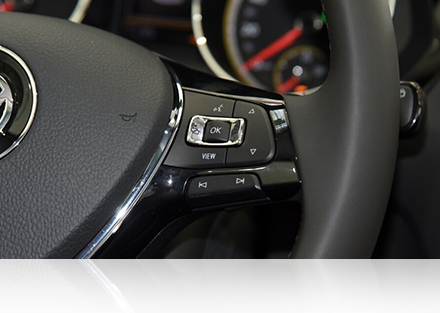 Steering Wheel Control
The Dynavin system communicates perfectly with the multifunction steering wheel of your vehicle. The upgrade to Dynavin still allows you to control volume, telephone, track search (forwards / backwards) and other functions as usual. When a smartphone is connected to the system, you can even activate voice control such as "Siri" or "Google Assistant" via the steering wheel.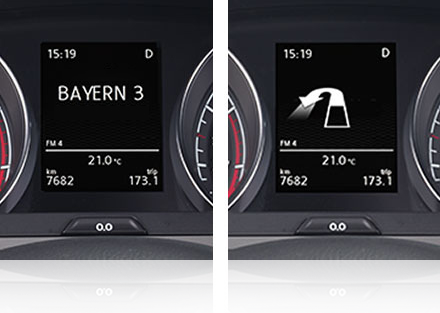 Multifunction Display (MFA)
The multi-function display (MFA) in the instrument cluster is connected to the Dynavin system and can display radio station names, ID3 tag from Media player, caller information, navigation information and compass (Turn by turn navigation information works on instrument display only after you activate the Navigation Software on flex.dynavin.com. The navigation menu of the MFD need to be activated if you don't have it in your car).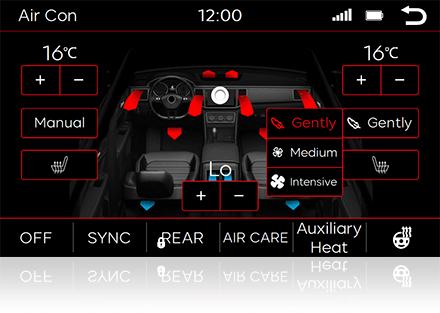 Air Condition Display
Dynavin Flex gives you visual feedback for the driver and passenger temperature, air conditioning status, heated seat status, selected air vents and more. This screen appears after pressing the MENU button on HVAC panel. You can also adjust the interior temperature and fan direction through the air conditioning menu in cars that support this feature (Only for vehicle with "Air Care Climatronic" air conditioning system).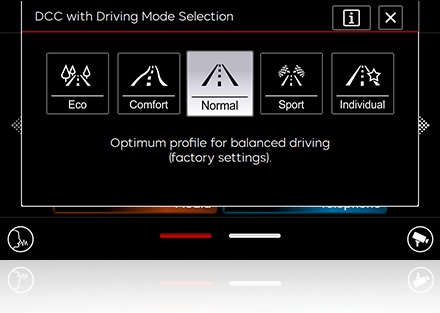 Drive Mode Selection
The driving mode selection function is retained in Dynavin Flex. It allows you to select different driving modes via the touchscreen.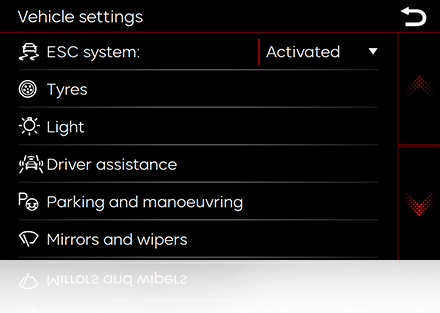 Vehicle Settings (Car Menu)
Dynavin Flex for Golf Sportsvan retains all of the vehicle settings menu in the factory display. So all of the electronic devices set by the factory display can still be set by the Dynavin Flex.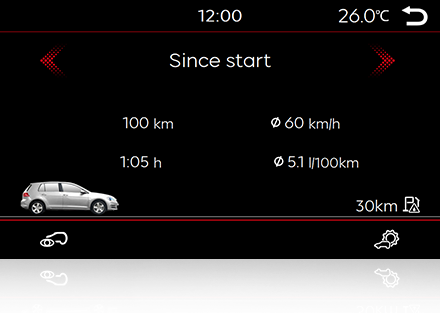 Vehicle Information
The driving information is shown on the Dynavin Flex display. So you are still able to see the fuel consumption, distance to empty, outside temperature and more.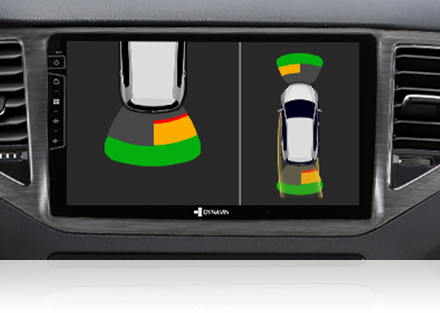 Parking Sensors-Optical Parking System (OPS)
If your vehicle is equipped with factory parking sensors, this feature will also remain when you upgrade to the Dynavin system. Visual Parking Assist works with Acoustic Parking Assist to support the driver and detect obstacles in front of or behind the vehicle. In the detection field, the position of the obstacle is shown graphically on the display of the sound or media system. In addition to the front and rear sensors, the 4-side sensors are also shown on the display.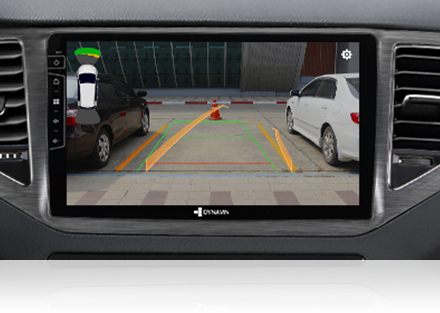 Reverse Camera
If your Golf Sportsvan is equipped with the original reverse camera, this will also be supported by the Dynavin Flex System. You can see the dynamic guide lines in the reverse camera mode.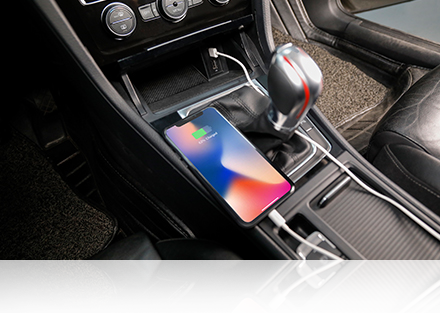 OEM USB Socket
DVN USBG7 replaces the VW Media IN socket or the USB/AUX socket connecting directly to the Dynavin Flex head unit, so you can plug your USB stick and smartphone into the storage box. It supports Apple CarPlay and Android Auto through your smartphone.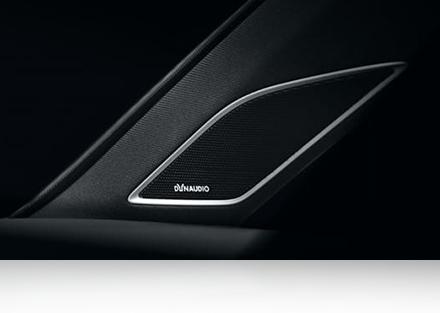 Compatible with Dynaudio Sound System
The Dynavin Flex systems are compatible with the original VW Dynaudio sound system. All you need is the DVN-MO150-V interface that allows connection of your Dynavin Flex unit to the Dynaudio amplifier.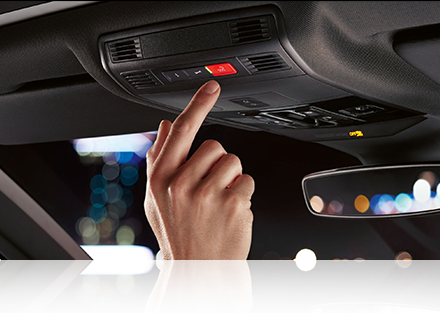 Compatible with VW E-call(SOS) System
The Dynavin Flex Systems are compatible with the VW E-call (SOS) System. So you will not have the E-call Warning message on the instrument display and you will not lose this important feature of your vehicle.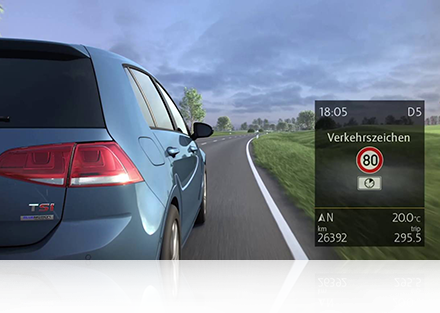 Compatible with VW Traffic Sign Recognition and Lane Assist System
VW Traffic Sign Recognition and Lane Assist System are very important driving assistant features in VW vehicles. All you need is the DVN-CANMIB-H that allows you to retain these features after the Dynavin unit is installed.
In-Car Entertainment System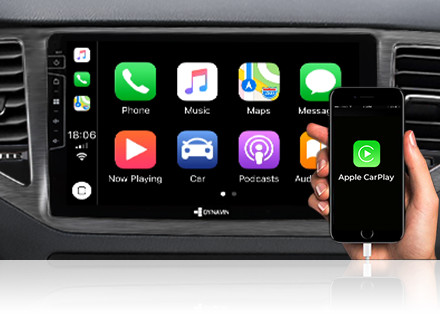 Works with Apple CarPlay
The Apple CarPlay is integrated into the Dynavin iLink Pro. Apple CarPlay allows you to use your iPhone while driving without having to pick it up. With Apple CarPlay, iPhone users have an incredibly intuitive solution to make calls, use maps, listen to music and use messages with just a word or the touch of a button. You can enjoy Spotify, Internet radio or podcasts while still fully concentrating on the road. Simply connect your CarPlay-enabled iPhone to the USB port of your Dynavin system and all functions are immediately available. You will need to purchase the iLink Pro Activation Code on flex.dynavin.com after the 31days free trial has ended.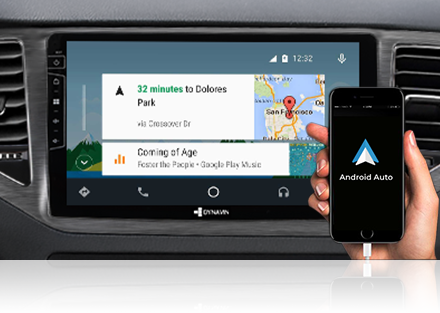 Works with Android Auto
The Android Auto is integrated into the Dynavin iLink Pro. Android Auto is a mobile app made by Google that connects your Android phone to your car's touchscreen display allowing you to use your Android phone while driving without having to pick it up. With Android Auto, Android users have an incredibly intuitive solution to make calls, use maps, listen to music and use messages with just a word or the touch of a button. Simply connect your Android Auto-enabled Android phone to the USB port of your Dynavin system and all functions are immediately available. You will need to purchase the iLink Pro Activation Code on flex.dynavin.com after the 31days free trial has ended.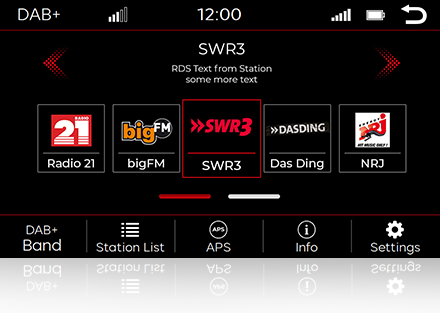 DAB Included
DAB/DAB+ offers you an extremely accurate, transparent sound. For uninterrupted reception, the tuner offers DAB + to DAB + Service Following, SLS (text information accompanying the program), Radio VIS (station cover on your radio display) and other helpful information. the Dynavin Flex unit can seamlessly switch between DAB/DAB+ and FM to create a continuous audio stream for the listener, especially in the car where radio reception conditions change every second. The DAB windscreen aerial is included in Dynavin Flex unit. Using DVN27AA156 to connect VW factory DAB antenna connector to Dynavin Flex DAB+ tuner.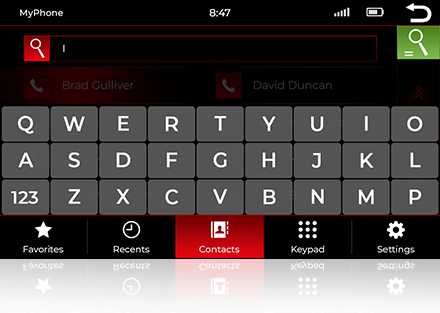 Bluetooth Build in
The built-in Bluetooth module allows wireless connection of a mobile phone for hands-free communication. A very intuitive user interface makes operation extremely easy and you can use the onscreen keyboard to search for contacts. Bluetooth also allows audio streaming from a smartphone.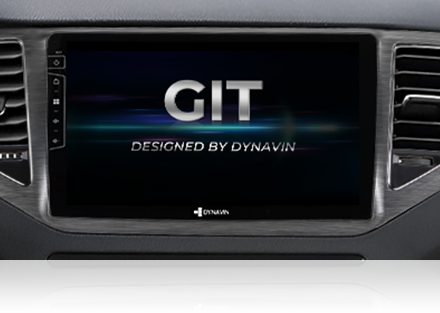 Customizable Start Screen
With our own operating system DynOS, you have the ability to change the start-up screen image and the stored radio stations images.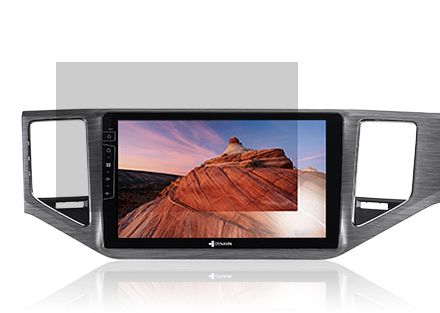 Anti-reflection Touchscreen
Dynavin's anti-glare touchscreen features a layer of coating that minimizes reflections. Thanks to the anti-reflective display, you can still see what's on the device even in bright sunlight.
Improve Your Sound

Fader and Balance
You can simply use the touchscreen to drag the crosshair to the desired location on the car interior image to make fader balance and time correction adjustments.

Equalizer Presets
The Dynavin Flex offers extensive sound adjustment options to get the best out of your vehicle sound system and to adjust the sound to your taste and preferences. The built-in 9-band Parametric EQ allows separate adjustment for the front and rear channels with professional detail.
Specifications
Sound tuning
Maximum output power: 4 x 45 W
Adjustable subwoofer level
Subwoofer, Bass, Middle, Treble phase selectable
Equalizer Presets: Pop, Rock, Classical
9-band parametric equalizer
Fader and balance
Digital time correction
Volume fading while in reverse setting option
Maximum switch-on volume setting customizable
Radio
FM frequency range: 87.5 – 108.0 MHz
AM frequency range: 530 – 1710 KHZ
FM Utility Sensitivity: -2 db
FM Stop Sensitivity: 22 db
AM stop sensitivity: 21 db
With left and right stereo channels
Signal to noise ratio: 56 db
APS automatic station storage stores 5 stations with the best signal on page 3
Manual station storage for 15 stations
RDS functions: AF, TA, broadcast text
Automatic station tracking function
High Cut high frequency attenuation function
Support for changing FM/AM memory station pictures
Optional radio antenna power on/off
Navigation
Maps: 46 countries (Western and Eastern Europe)
Menu languages: 28 languages
TMC traffic radio
Advanced address search
Postcode search
Free search
Search with word pieces
Extended POI functions
Smart routes: use of historical traffic data
Fast route calculation
Extended route planning
Extended TMC mode
Map display: 2D top view, 2D north orientation, 3D
3D city maps: 3D building views
Display of elevation profiles
3D motorway junctions: 3D display of motorway junctions
Tunnel mode
Highway mode
Navi Mix mode
Direct dialing by telephone from POI data
Online Map Update via www.naviextras.com
Free map update after the first registration on naviextras.com
General
Power Output: 4 x 45 W High Power Amplifier
Advanced Power IC
Display: 10.1′′ Capacitive High-Resolution Display
3 PreOuts (3 V, Front / Rear / Subwoofer)
AUX-In: 1x A/V AUX Input / 1x video Output
DAB / DAB+ tuner and DAB antenna included
CANBUS System Integration
Menu Language: English / Germany / French / Spanish / Portuguese / Dutch / Greek
Camera Connection & Built-in Controls for Dynavision Multi-View Cameras / compatible with factory camera
Camera Guideline Adjustment
Rear-view Camera Display Automatic / Fast Boot-up
9-Band EQ
Auto Dimmer
Firmware Updatable
Engine Start-Stop unaffected
Customizable multi-function physical button
File management : copy / paste / delete / view
Package Content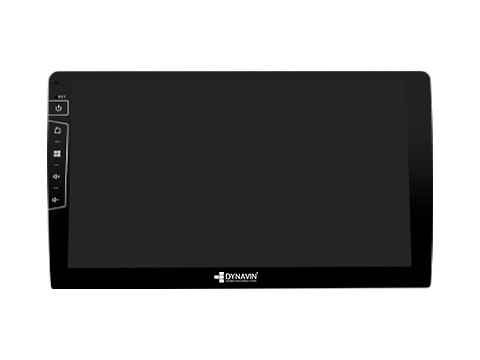 Display Screen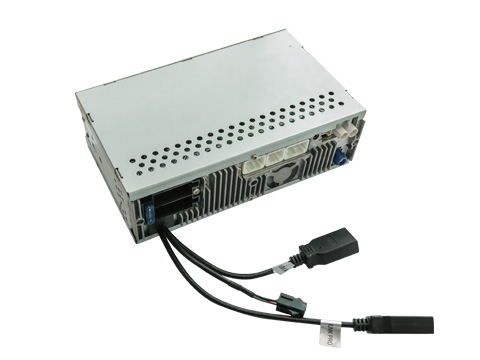 Main Head Unit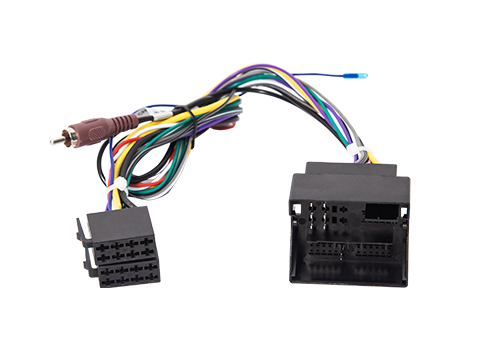 Radio Wiring Harness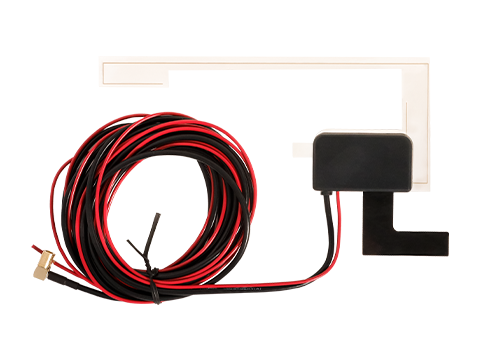 DAB Antenna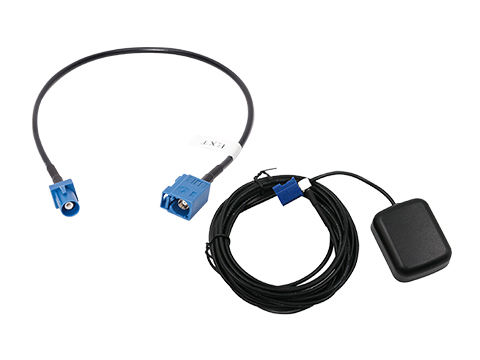 GPS Antenna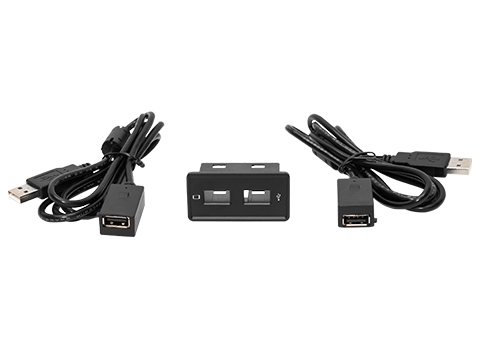 OEM USB Socket with USB EXT Cable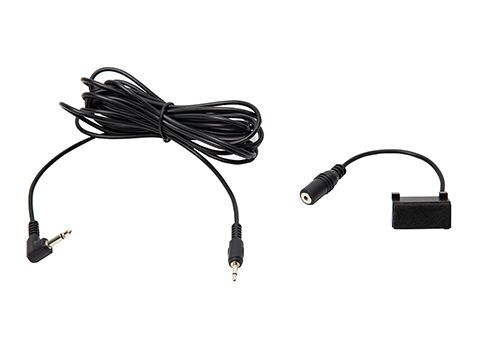 OEM-Style Microphone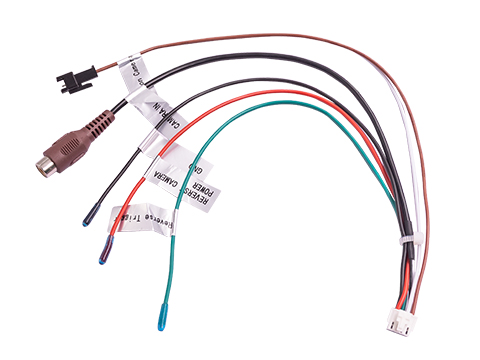 Reverse Input Cable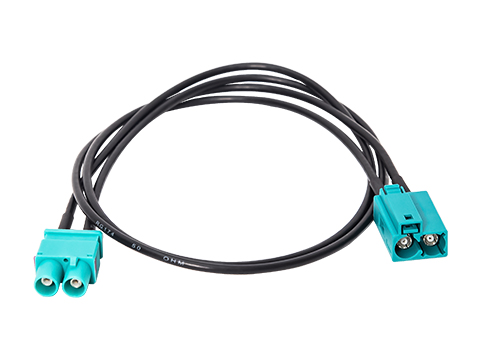 Radio Antenna EXT Cable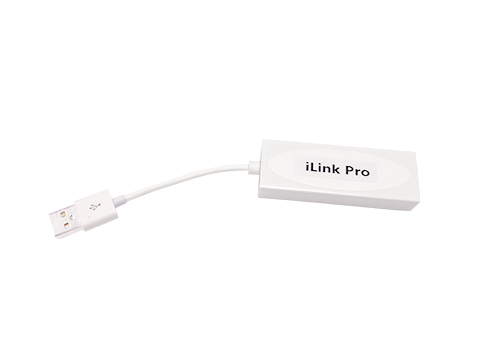 iLink Pro USB Dongle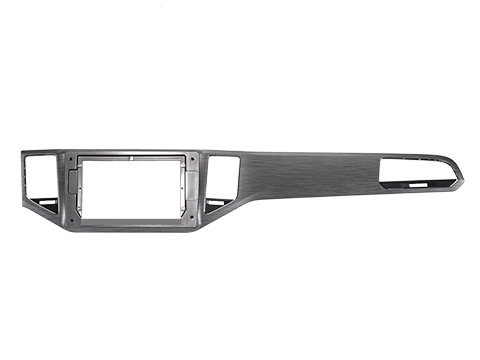 Fascia Panel For Golf Sportsvan
Connection Cable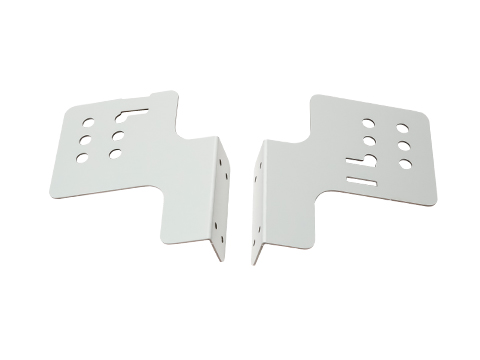 Metal Bracket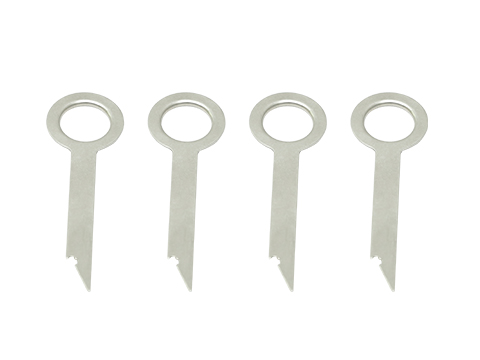 Releasing Keys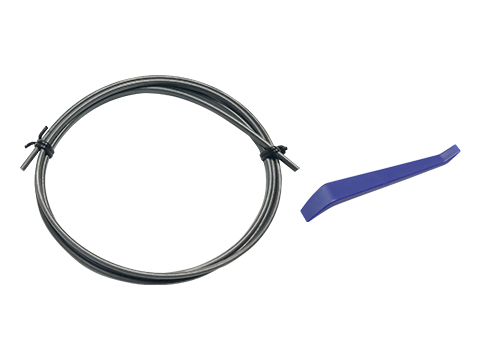 Fish Tape and Panel Removing Tool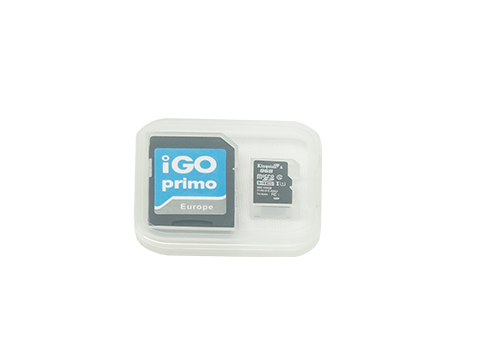 Navigation SD Card(Not Activated)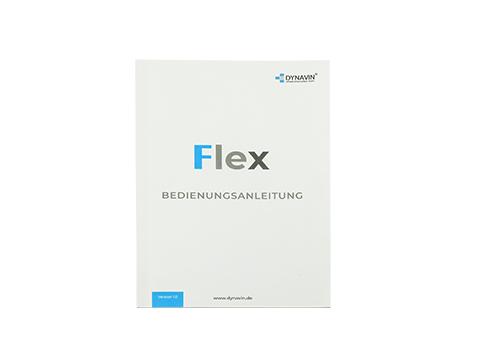 User Manual
Support
Please download the latest firmware for Flex Radio from flex.dynavin.com.
Please prepare the serial number from your device first, this will be required for your registration.